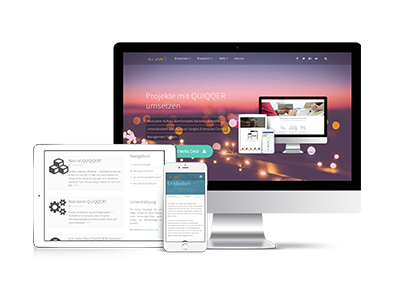 Product Presentation
quiqqer/template-presentation
Template PCSG QL-1.0, CC BY-NC-SA 4.0 Details
Description
Business and marketing Template.
Business and marketing template for promoting your company or product online. It's easy-to-customize and supports the responsive design. It also compatible with the Presentation Bricks - just place some bricks from the plugin to build a modern and elegant webpage.
This QUIQQER theme offers you a lot of settings - easily adjust the colors, stick the menu on the top of the page, display the header image for certainly layouts and many more.
Features
Responsive
Integrated QUIQQER breadcrumb
Page transition effects
Search icon / input in the top navigation
FontAwesome support
Placeholder for your socials in the navigation and footer

Facebook
Twitter
Google Plus
YouTube
GitHub
GitLab

Color management
Header settings
Each site can define if header, title and short description should be displayed (override the global setting)
Template settings cache
Extra layout to place the bricks on the top (for start page)
Additional information
Rights holder
PCSG - Computer & Internet Service OHG
Support