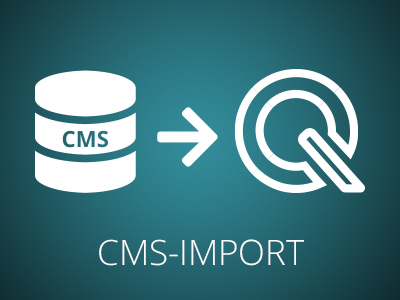 QUIQQER CMS Import
quiqqer/cms-import
Module GPL-3.0+ Details
Description
Import data and structure of third party CMS systems into your QUIQQER system
You manage your website with a different Content-Management-System and want to switch to QUIQQER? No problem! Simply migrate your website with the QUIQQER CMS Import. This module allows you a smooth transition of your website content and structures into your QUIQQER system. You decide what exactly is imported.
Features
Import (depending on your selection) the following components of your website from other CMS systems:

Sites (web pages) (content, paths, incl. page hierarchy)
Tags and tag groups (with page assignment)
Users (incl. assignment to groups and permissions)
Groups
Media content (images, files, folders incl. folder structure)
Translations
Permissions
System configuration

Automatically clean up your QUIQQER system on request and prepare it perfectly for import.
Not sure if the import worked smoothly? After the import process you can read in the review.log which elements you should check again.
This module only works in combination with import modules for external systems.
Install package
To install version "1.0.0" of this package the following other packages have to be installed in the given version:
To install the latest version (1.1.0) for this package the following other packages have to be installed in the given version:
To install version "dev-dev" of this package the following other packages have to be installed in the given version:
To install version "dev-master" of this package the following other packages have to be installed in the given version:
Additional information
Languages
German

English
Rights holder
PCSG - Computer & Internet Service OHG
Support