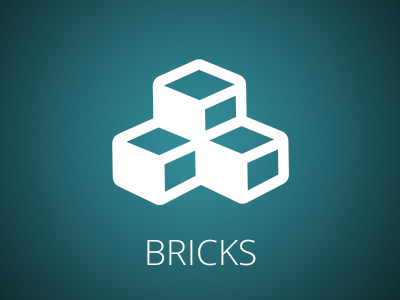 QUIQQER - Bricks Module
quiqqer/bricks
Module GPL-3.0+ Details
Description
The brick system allows you to design your website according to your wishes. You can quickly move, create, or remove bricks to different places in the template.
Bricks are modules with freely definable fields, they allow you to create modules that meet exactly those requirements.
Within the template areas you can place all kinds of content, such as advertising banners, contact data, news and blog entries, pictures and so on.
In order to make it easier for you and so that you can design your website quickly and easily according to your own wishes, the bricks are at your disposal. Create own bricks of various types and insert them into the areas on your website.
With a few simple steps you can expand your website without extensive development knowledge.
Features
Brick administration
Different bricks can be assigned to one page
Bricks can be created and managed for each project individually
More than 20 flexible bricks are delivered

Create page lists in no time at all with the different brick lists
A lot of sliders
Install package
To install version "0.10.0" of this package the following other packages have to be installed in the given version:
To install version "1.0.0" of this package the following other packages have to be installed in the given version:
To install version "1.1.0" of this package the following other packages have to be installed in the given version:
To install version "1.1.1" of this package the following other packages have to be installed in the given version:
To install version "1.1.2" of this package the following other packages have to be installed in the given version:
To install version "1.1.3" of this package the following other packages have to be installed in the given version:
To install version "1.3.0" of this package the following other packages have to be installed in the given version:
QUIQQER: >=1.6|dev-master|dev-dev
To install version "1.3.1" of this package the following other packages have to be installed in the given version:
QUIQQER: >=1.6|dev-master|dev-dev
To install version "1.4.0" of this package the following other packages have to be installed in the given version:
QUIQQER: >=1.6|dev-master|dev-dev
To install version "1.4.1" of this package the following other packages have to be installed in the given version:
QUIQQER: >=1.6|dev-master|dev-dev
To install version "1.5.0" of this package the following other packages have to be installed in the given version:
QUIQQER: >=1.6|dev-master|dev-dev
To install version "1.5.1" of this package the following other packages have to be installed in the given version:
QUIQQER: >=1.6|dev-master|dev-dev
To install version "1.5.2" of this package the following other packages have to be installed in the given version:
QUIQQER: >=1.6|dev-master|dev-dev
To install version "1.5.3" of this package the following other packages have to be installed in the given version:
QUIQQER: >=1.6|dev-master|dev-dev
To install version "1.5.4" of this package the following other packages have to be installed in the given version:
QUIQQER: >=1.6|dev-master|dev-dev
To install the latest version (1.5.5) for this package the following other packages have to be installed in the given version:
QUIQQER: >=1.6|dev-master|dev-dev
To install version "dev-dev" of this package the following other packages have to be installed in the given version:
QUIQQER: >=1.6|dev-master|dev-dev
To install version "dev-master" of this package the following other packages have to be installed in the given version:
QUIQQER: >=1.6|dev-master|dev-dev
Additional information
Rights holder
PCSG - Computer & Internet Service OHG
Support